Further promote the spirit of Tramy craftsmen, improve the quality, efficiency and benefit awareness of employees, enhance team cohesion, and create more ultimate products for Tramy. At 1:30 p.m. on May 20, the Tramy traditional hand-made vegetarian chicken skills competition was officially held in the large vegetarian chicken workshop of No.1 production plant. Xu gendi, Secretary of the general Party branch of the group, Li Ming, chairman of the trade union committee of the group, Wang Zeke, director of No.1 production plant, and other relevant leaders came to the scene to guide the competition.
The competition content is zasuji. The Organizing Committee of the competition has stipulated the competition rules and evaluation standards before the competition, and awarded the top three teams in the competition. More than 30 employees participated in the competition in five groups.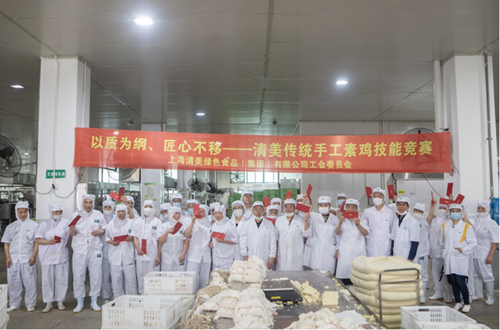 At 1:30 p.m., the competition officially began. We all tried our best to catch up with each other, fully displaying their own cutting, wrapping, binding and other unique skills, which dazzled all the people present and gave them thumbs up from time to time.
After several rounds of fierce competition and on-the-spot scoring by the judges, the group team No. 1, Jin Yongmiao, Zhu Zhonghua, Wu Qishu, he Zhugui and Li Gaofei, won the first place in the group; Zhao Daisheng, Chen Guanchun and Li Gaofei won the first, second and third place respectively.
Carry forward the spirit of pure and beautiful craftsmen, be extraordinary in the ordinary, and surpass at the end. In this competition, the employees of Tramy showed their skills and skills, which fully demonstrated the good professional quality and excellent skill level of Tramy craftsmen and contributed to the ultimate products of the group.